on Sat Jul 27, 2019 10:57 pm
As you can see in this Picture, the Hatch in the Side of the Turret, at the Loader's and Gunner's Position, are openable. I would like to see this feature being introduced so that, when in the Position of Loader/Gunner, one can take a better look outside than just through the Viewport.
A few more Pictures: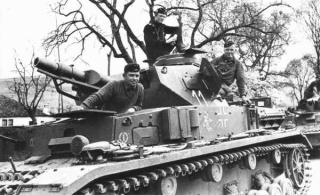 An additional Idea would be to have 2 different "Leaning out" Positions, one slightly leaning out of the Hatch, like in the 3rd Picture, and one completey "sitting" in the Hatch like in the 2nd Picture.
Best Regards
Fritz Berger
on Sun Jul 28, 2019 1:35 am
Hello Fritz,

Thank you for your suggestion and yes, you will be able to open that hatch in the future. Both current models (T-34 and Pz4) are not finished.

Regards.

Permissions in this forum:
You
cannot
reply to topics in this forum